Below you can find a number of additional examples of sector maps providing a complete picture of a specific sector: The first two include a possible third dimension to be added to the concept of a sector map.
Example 1 Installation technology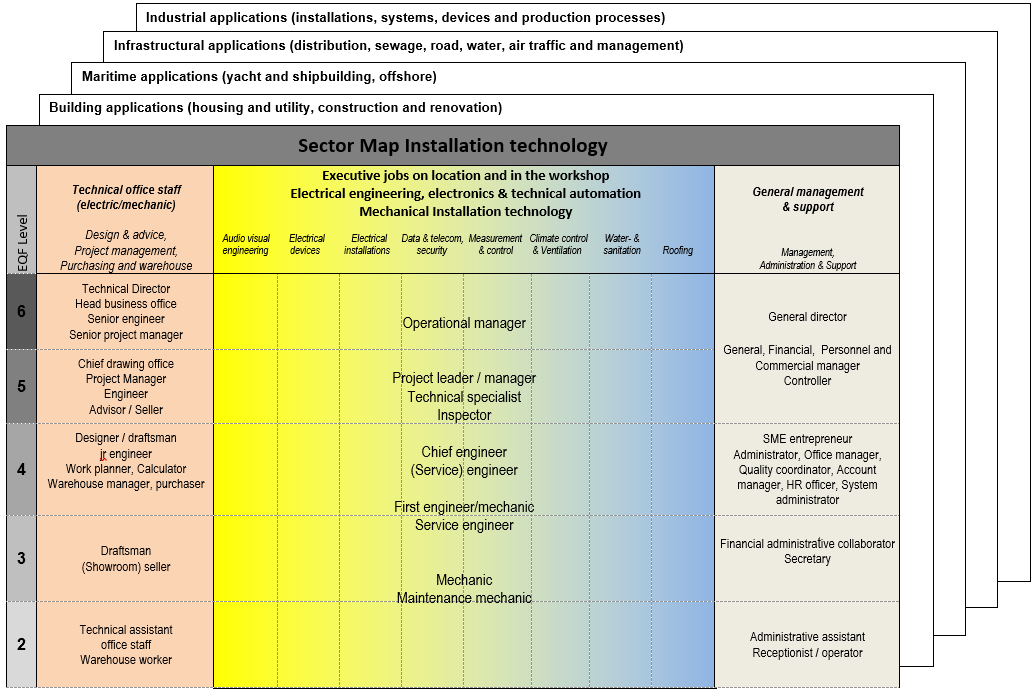 This sector map example shows the full variety of jobs in the installation technology sector. On top of the large variety in content of jobs, the third dimension adds the context to this variety: the type of product markets and clients that the companies work for.
Example 2 Metal working industry
Metal working industry
EQF level
Design, Drawing & Work preparation
Casting & Extrusion
Machining
Sheet metal working
Surface engineering
Construction
Assembly & Disassembly
Mechatronics
Service & Maintenance
Management & Support
5
Designer/ Constructor (engineer)
 
 
 
Surface technician
 
 
 
Service technician 
Director Manager
4
Chief drawing office Work planner
(senior) Foundry technician
Precision engineer Model maker
 
Electroplating technician
Mechanical engineer
All-round machine builder
All-round mechanic mechatronics
Service engineer
Sales representative Workplace trainer
3
Calculator Draftsman Quality controller
Founder Caster Moulder Melter
All-round CNC machinist CNC programmer Toolmaker Instrument maker
CNC sheet metal worker
Galvanizer Sprayer
All-round construction worker All-round welder
Machine builder
Senior mechanic/ tester mechatronics
Maintenance engineer
Purchaser
2
Junior mechanical draftsman
Junior foundry worker
Junior machinist
(junior) Sheet metal worker
Junior galvanizer Junior sprayer
Construction worker Welder
Assembly mechanic Demolition worker
Mechanic mechatronics
 
Warehouse worker
1
 
Production assistant
Production assistant
Production assistant
Cleaner
Polisher Swabber
Production assistant
 
 
 
Cleaner
This sector map of the (Dutch) metal working industry shows a great variety in branches and companies: forging, casting and extrusion companies, machining companies, sheet metal companies, surface engineering, construction companies, building construction, yacht and shipbuilding companies, mobile equipment, agrotechnical companies, metal ware manufacturing companies, instruments and tools, machine and equipment construction, service and maintenance companies, recycling companies, electrical engineering companies, aircraft construction and maintenance companies. This diversity can be showed in a third dimension.
Example 3 Builders' merchants sector
Level
Logistics
Sales office
Field & showroom
5
Logistic manager
Product manager
Marketing manager
4
Chef expedition

Technical specialist

Account/area manager

3
Storekeeper

Back office / sales employee

Field worker

2

Warehouse




employee

Desk clerk

Receptionist
Around 10.000 workers in about 600 companies

50% works in a technical/commercial job
30% works in logistic jobs (with client contacts)

"Triple craftsmanship"

Technical (products and their application)
Logistical (the right stuff at the right place and time)
Commercial (thinking like a contractor)
Example 4 The beauty care sector
The sector is divided in three branches. The (content of) two jobs highlighted in the middle can also be shown in a completely different way
| | | | |
| --- | --- | --- | --- |
| EQF level | Hair dressing | Beauty care | Pedicure |
| 5 | - | Skin therapist | - |
| 4 | - | All-round beautician | Medical pedicure |
| 3 | Hairdresser | Beauty specialist | Pedicure |
| 2 | Junior hairdresser | Nail stylist | - |
The two highlighted beauty care jobs in the middle can also be shown in a completely different way of mapping out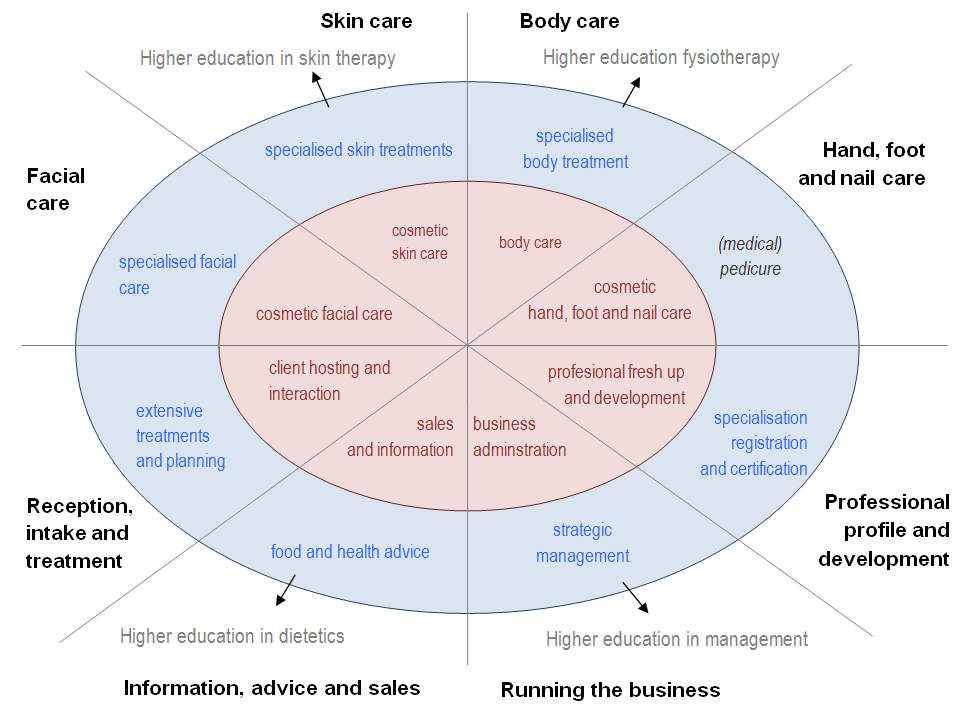 This industry is actually more of a professional association and this image is more an overview of job content and its development, from EQF level 3 to 4 and further into higher VET specialisations.
---