Occupations and VET programmes are placed in a sector map in two dimensions: level and content.
Level: determined by levels of education, aligned to the European Qualification Framework (EQF)
Content: determined by division into dominant/different work processes (and associated areas of knowledge and skills) and corresponding jobs and careers in the sector
The content of work in a sector is usually structured by the dominant work processes and professional disciplines, which can be distinguished within the internal organization of companies. VET programmes normally reflect such a classification of work processes.
Jobs in context
The table below represents a simple and empty sector map. The filled-in table gives a clear idea of the organizational context people are working in as well as discriminating the job in focus from the surrounding jobs. It provides an immediately recognizable image and a background for collecting quantitative data.
Table 1
SECTOR
EQF
level
Work Processes e.g. Planning and Management
Work Processes e.g. Operational Commercial
Work Processes e.g. Supervision and Control
6
 
 
 
5
 
 
 
4
 
 
 
3
 
 
 
The vertical dimension (rows) of the sector map is the level of work/thinking/education, following the EQF scale, which is generally in line with wage scales.
The horizontal dimension (columns) follows the layout of the sector/companies/work concerned. The content of work in a sector is usually structured in different work processes and professional disciplines, which can be distinguished within the internal organization of companies. Corresponding VET programmes normally reflect such a classification of work processes. 
Operational instructions
STEP 1 Define a sector/profession on which to focus
STEP 2 Set up a small working group of stakeholders, committed to the goal and interested in providing inputs and using outputs
STEP 3 Choose a job within a defined range of EQF level to make results comparable. For the best results, choose 3-5 connected jobs.
STEP 4 Choose the (core) occupations at consecutive levels
STEP 5 Place them in the sector map - as shown in the examples below:
Nota bene: in theory you take successive steps. In practice, however, it is an iterative process, moving back and forth between them
The examples provided focus on craftsmanship at mid-level iVET, therefore range between Level 2 to 6 of EQF.  The jobs chosen are those three (in each example) highlighted.
Example 1 Swedish electrical installation technology for housing and utility building
Sector: Electrical installations in housing and utility building

Work processes

►

EQF
levels ▼

Preparation,
Logistics
and Planning

Installation, Service
and Maintenance

Management
Administration
and Support

6

Technical Manager

Operational Manager

General/Commercial Manager

5

Project Manager

Head Execution
Service Manager

Controller, HR officer

4

Planner/Engineer

Technical Specialist
Leading/Senior Electrician

Office Manager

3

Draftsman

Service Engineer
Electrician

Bookkeeper
Secretary

2

Warehouse
Worker

Assistant Electrician

Administrative Assistant
The focus in the QSE-VET project in Sweden has been on the three highlighted jobs in the middle. For inspiration take a look at 1.D Other options "Example 1. Installation technology" for a fuller image of the (Dutch) installation sector. 
Example 2 Local regional branch banking staff in Italy. The focus of the QSE-VET project was on lower middle management at local / regional level.
Italy's Commercial Banks - Retail
EQF
level
Planning and Management
Operational Commercial
Supervision and Control
6
Regional manager
Personal Planner
General Supervisor
5
Area branch coordinator
Personal Advisor
Compliance Manager
4
Branch manager
Investment Practitioner
Risk Manager
3
Vice branch manager
Daily Banking Advisor
Risk and Compliance Officer
Example 3 kitchen staff of the UK and Greece. The focus in the QSE-VET project was on restaurants and catering services. The related departments and professions have been left out because they can differ greatly depending on the nature of the organization of which the kitchen is part.
British and Greek Kitchen staff
EQF Level
Occupations
5
Executive chef
Head Chef
Sous chef
4
3
Cook / Chef de partie
Commis chef
2
Kitchen Porter
What emerges in all examples above is the immediate awareness of one's position and the directions that are possible, in terms of professional development. Table 2: directions of professional development.
STEP 6 It is possible to recognize and provide mobility suggestions in small steps to move from one job to another, in line with the professional growth of the employee and the opportunities provided by the organization. It is up to the sector and companies to articulate the demand for VET support to accommodate the mobility desired.
Example "Table 3": Job transition for builders' merchants [1]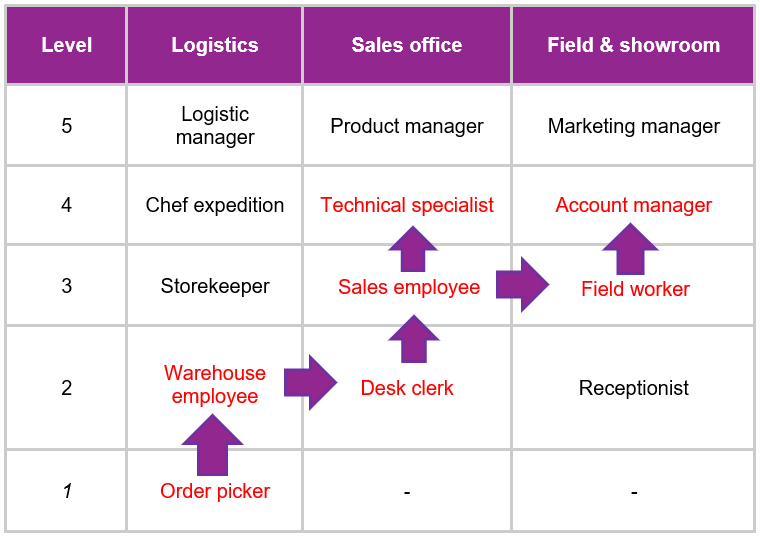 The arrows in this table not only indicate the direction of mobility, but also refer to the different training modules that are offered, partly in collaboration / in combination with vocational education.
---